An exceptional French Restaurant in East Molesey, near Hampton Court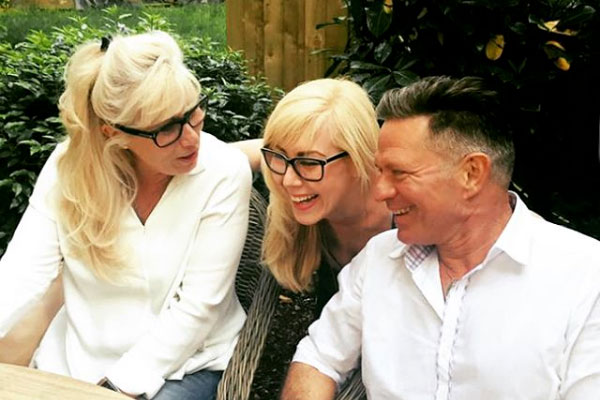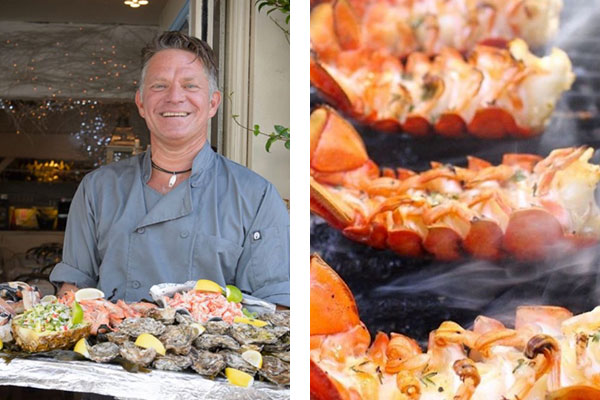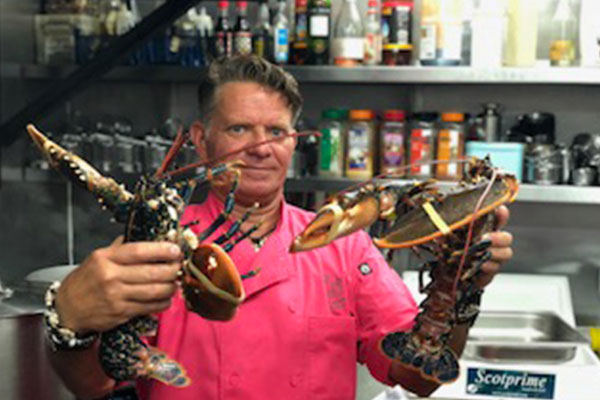 In December of 1997 Jean-Philippe and Kim Gravier opened the doors to Le Petit Nantais Bistro in the heart of Hampton Court Village.
"Our idea was to bring traditional French cuisine to our customers in a relaxed and chilled environment, where dressing up or down will always be the norm and the food and wine is the main event."
23 years later that idea continues, with their family now grown and their talented daughter Victoria working alongside Jean-Philippe creating the real tastes of French food.
Le Petit Nantais Menu
Our ethos at Le Petit Nantais has always been to only use the freshest produce,
locally sourced and as seasonal as possible.
Bread
Tim the Baker in Thames Ditton supplies us with his beautiful artisan bread daily
Fish
Buck is a third generation Cornish fisherman who supplies us direct from his fishing boat in Newquay straight to our door. Amazing freshly caught fish and shellfish from the beautiful Cornish coast
Meat
Smithfield still supplies us with some of the best meat produce you could ever find
Vegetables
Covent Garden is our "go to", fresh, seasonal produce available all year round
Wine
Since 1997 we have used the same wine supplier who provides us with the best quality French Champagnes and Chateaux Wines
From France
All our dry goods and French cheeses are delivered twice a week directly from France
LPN TAKEAWAY MENU IS BACK!!!
Our restaurant may be closed but that doesn't mean we can't give you a little slice of some of your LPN favourites to eat in the comfort of your own home.
After so many requests for us to do a Le Petit Nantais version of a Sunday Roast we have decided to offer a ready to re-heat version with a different meat available each week.
This week's Sunday Roast is going to be Belly of Dorset Pork rolled and stuffed with Brittany black pudding, slow cooked in French cider for 4 hours. Served with a combination of cabbage, onions, leeks, lardons and a lot of butter and a cider apple reduction glaze – £19.50
A vegetarian option will also always be available every week too!
ALL SUNDAY ROAST ORDERS MUST BE ORDERED BY 12 MIDDAY EVERY SATURDAY AT THE LATEST
Now on to our usual takeaway, which will be available Friday evening, Saturday lunch/evening and Sunday lunch.
Starters
– Our onion soup (description in main menu) £5.25
– Soupe de Poissons – Homemade fish and shellfish soup served with Rouille, sourdough croutons, and Emmental cheese £7.25
– Crayfish Cocktail (description in main menu) £7.50
– Homemade Rabbit and Pork Terrine made with garlic and Muscadet £8.50
– White Crab Meat with homemade mayonnaise £9.00
– Saucisse Morteaux wrapped in puff pastry and served with rich red wine sauce (starter size) £8.50
Mains
– Lobster Pithivier – Cornish lobster pan fried with shallots, mushroom duxelles and tarragon wrapped in puff pastry and served with a rich cognac, lobster and cream sauce £21.50
– Our famous Prawns! Mediterranean prawns sautéed in garlic butter, white wine and cream, flambeed in cognac £17.50
– Fillet of Turbot ready to cook with a rich Noilly Prat and Cream Sauce £19.50
Desserts
– Tarte Tatin – The Famous upside down apple tart served with creme fraiche £5.95
– Opera au Cafe Chocolat – A rich Chocolate and coffee layered dessert £5.95
– Homemade Dark Chocolate Mousse – £4.00
– Selection of 5 French cheeses (that you can't buy in the supermarket) £12.50
Sides
– Seasonal Vegetables £3.00
– Buttered New Potatoes £2.00
– Creamy Mashed Potatoes £2.00
– Roast Potatoes £2.00
All takeaway orders must be pre ordered 24hrs in advance at this time.
All Payments to be made by bank transfer (details of which will be given when you place your order)
Saturday and Sunday COLLECTIONS ONLY this week.
Call JP NOW on 07796266006
Orders for our Beef Wellington for Sunday 29th are now being taken.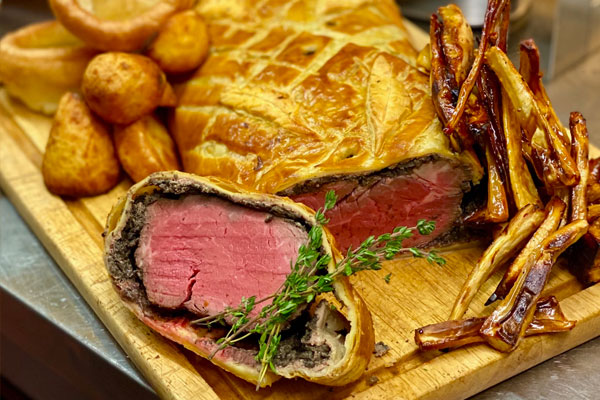 PLEASE NOTE BELOW IS OUR REGULAR MENU
Les Grignottes
Freshly Cut Bread of the Day, Baguette and Berre Beillevaire
Garlic Bread on Traditional French Baguette
Saucisson Sec and Cornichons
Soupe à l'Oignon Gratinée
French Style Onion Soup with a Crust of Croutons and Cheese
Cocktail de Crevettes Sauce Marie-Rose
Traditional Crayfish Cocktail
Mousse de Canard au Monbazillac
Smooth Duck Liver and Dessert Wine Pâté
Escargots à l'Ail
Snails in Garlic Butter with White Wine and Cream
Les 6: £9.50
Les 12: £14.50
Salade du Bistro Nantais
Salad Leaves, Walnuts, Blue Cheese and Traditional Vinaigrette
Entrée: £8.50
Plat: £11.95
Salade de Confit de
Warm Confit of Duck with a Honey, Sesame and Ginger Dressing
Entrée: £9.50
Plat: £13.95
Les Huîtres
Fresh Oysters Fines de Claire Marennes Oléron
Les 3: £7
Les 6: £12
Les 9: £17
Les 12: £22
Les 24: £40
Steak Tartare et Frites
Hand cut Fillet of Beef Mixed with Traditional Spices and Egg Yolk accompanied with Frites (Served Raw)
Filet Steak et Frites
Fillet of Beef served with Frites and Mixed Leaves
Sauces: Peppercorn, Rich Red Wine and Shallot, Garlic Butter, Blue Cheese
£2.00 per sauce
Steak et Frites
Pan fried Rib Eye Steak served with Frites and Mixed leaves
Saucisses de Toulouse et la Purée de Pommes de Terre
Handmade Toulouse Sausages Cooked with an Onion and Red Wine Reduction Served with Buttery Mashed Potatoes
Suprême de Poulet au Bleu
Supreme of Chicken in a Rich Blue Cheese Sauce Served with Pureed Potatoes
Confit de Canard
French Duck Leg, Confit in house with a Ginger and Honey Glaze Served with Pureed Potatoes
Fish/Shellfish of the Day
Freshly Caught Fish and Shellfish from Cornwall by our Fisherman Buck
*Ask Kim or JP for Details
Portion of Frites – £3.00
Tomato & Shallot Salad – £4.50
Whether its a birthday celebration, a christening or a wedding, we bespoke all our special events to your individual and unique choices. From colour schemes, place settings and flowers, we are there to take you through each step of your special day to make it a memorable occasion for you and your guests.
Special Event Enquiries
Contact Le Petit Nantais
Please be aware that although last sitting is 9:00pm,
due to Covid regulations all guests must leave the restaurant by 10pm
Maximum table size is 6 people from the same household
Opening Hours
Monday & Tuesday: Closed
Wednesday: 5:30pm – 9:00pm
Thursday: 5:30pm – 9:00pm
Friday: 5:30pm – 9:00pm
Saturday: 12:00pm – 2:00pm & 5:30pm – 9:00pm
Sunday: 12:00pm – 3:00pm
Address
41 Bridge Road,
Hampton Court,
East Molesey,
KT8 9ER
Le Petit Nantais Covid19 Procedures
We request that guests wear a face mask when entering the restaurant, going to their table and when visiting toilets and leaving the restaurant.
Le Petit Nantais has increased additional precautionary measures throughout the restaurant and kitchen including:
• As always, our restaurant will maintain the highest possible level of hygiene and is cleaned regularly with sanitisers. Throughout the restaurant we have extra hand sanitiser dispensers so please feel free to make use of this during your time with us.
• All our staff have been briefed with current government requirements and are undertaking extreme levels of health and safety procedures to ensure that guests and other staff members are safe.
• We have rearranged the layout of the restaurant and reduced the number of tables to maximise space around diners.
• Our waiters will stand at further from our guests and minimise close contact where possible. All our staff will be wearing face masks at all time.